There are a wide variety of businesses out there. Each of these businesses varies in terms of operations, customer base, etc. However, the thing which is common between all of them is that they wish to serve their customers in the best way possible. This can only be done by the use of the best tools available at their disposal. vCita is one such tool which helps business owners manage their businesses.
In this article, we shall be discussing the various aspects of vCita which is one of the very best business management tools out there.
What is vCita?
Let us now discuss what vCita is all about. It can be thought of as an all in one business management software which is designed for use by entities such as service providers, professionals, and other users. It can be thought of as a cloud-based service which helps business owners manage their everyday activities and operations. These activities include calendar scheduling, lead generation, email marketing, etc. It is an all in one platform where you get to enjoy multiple functionalities like CRM, appointment booking, communication with clients, etc. amongst a host of other capabilities.
It boasts a number of functionalities which make vCita an amazing tool especially if you're a business owner or run a small team as well. vCita acts as your assistance tool which helps you keep everything organized. You can schedule appointments using the calendar by just a few clicks of the mouse button. You can also display a highly customized and branded calendar where clients are allowed to request appointments.
It also features a self-service portal where customers can opt to book the services you offer. They can also pay for the event via an online payment portal which makes use of a third party payment gateway software. Post this, you can even opt for invoice generation as well.
Apart from just scheduling appointments, vCita also allows you to undertake CRM activities as well. With its help, you can both manage and store your leads in a very centralized platform. You can also opt to view their contact history and further coordinate with your team members. You can also boost your marketing campaign by the creation of landing pages with the help of the page builder. You may also add impressive additions such as dynamic widgets along with the sending of customized email handouts. It's literally the only email marketing platform which helps business owners invite clients for bill payments, fill a form and even upload a document with the mere click of a button.
The fundamental motive of vCita is simple. It is there to help enhance your business operations which will help you take your business to the next level. This results in happier customers and of course increased revenues as well. We all know that managing a business is not easy and can be tedious as well. As a business enhancer, vCita is able to equip you with the right tools to help simplify and streamline your business operations.
You can now enjoy vCita in a wide variety of available plans which begins with a free trial version. You can take your business to the next level and also help give you a competitive edge over your competition.
Benefits
Touted as one of the best business utility tools out there, vCita offers a wide range of benefits for the users to enjoy. These benefits shall be listed in detail in this section. Let us now discuss them further:
You can now sync both your phone and calendar using vCita.
It comes with an added appointment booking and managing menu.
vCita helps manage all of your client interactions rather easily.
vCita also offers customizable forms with various styles and fields.
It also offers an HTML contact form generator.
With vCita, you can now manage your calendar using any other device.
It literally is a perfect match for platforms like Facebook and other websites.
You can also enjoy a host of meeting options as well.
It also features options for reminders, email confirmations, etc.
You can create schedules with multiple employees.
Safe and secure upfront payment is all the easier using vCita.
Enjoy the best of CRM using vCita.
Email and SMS marketing is all the easier using vCita.
Using vCita, you can now generate custom invoices for the payments you received.
Features
In this section, we shall be discussing the salient features of vCita. Read on to find out more!
Online scheduling & booking
Using vCita, your clients can now book and even schedule appointments very easily. They have the liberty to choose a convenient time slot. It also auto syncs with other software's such as Google Calendar, iCal, or even with Outlook as well. This feature helps reduce no-shows all thanks to its reminder feature. As a company, you can save both time and associated costs which may arise by using phone bookings.
Calendar management & client communication
With the help of vCita, your clients can now book appointments online anytime they want. They can easily cross-check their schedule based on which they can make modifications of their choice. In case you need to communicate, you can easily make appointments using your device or even using the vCita's teleconferencing service.
As a user, you will always be ahead of your schedule which reduces the chances of conflicts. A wide variety of calendars are supported using vCita and ensures that everyone is on the same page when it comes to your organization's schedules.
Customized billing and invoicing
With vCita's centralized payment dashboard, you can easily maintain watch over all your finances. You can now filter and sort our payments on the basis of their status. Invoices too can be branded and customized as per your requirements. You can input your company credentials and make additions such as taxes and discounts as well.
You can also issue invoices and track payments in real time even if you're a person always on the go. Clients can opt to send their payments using PayPal or even make use of their credit cards as well. All the generated invoices are stored in an unlimited invoice archive.
Convenient online payments
Another standout feature of vCita is the convenience it offers while making payments online. You can receive these payments upfront or even once the service has been deemed complete. With the help of highly customizable invoice templates, you will be able to design highly professional invoices as per the requirements of your company. Clients also have the option to enter their professional details on the payment form which can be placed almost anywhere on your website. The payments can be done using either a credit card or using a PayPal account.
Self-service client portal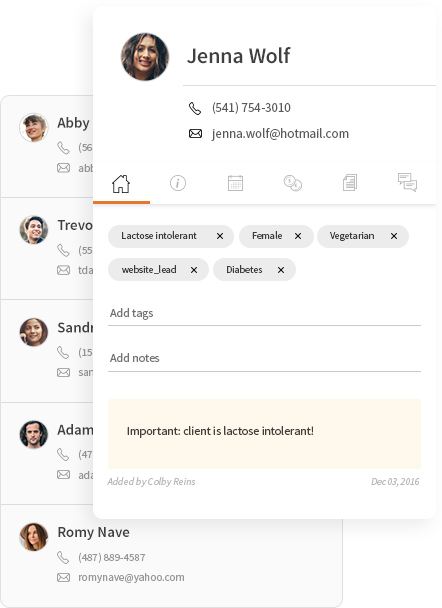 The client portal can be thought of as a dashboard where your clients will be able to finish certain actions such as booking or completing payments. It all the more safe to use and also helps your clients get in touch with your business at any time they want. This makes life all the easier for your client and it rebuts the need for them to be tech savvy to operate the dashboard.
Furthermore, the workload is certainly reduced for your staff who can now concentrate on more important business processes.
Easy landing page builder
The Live Site feature offered by vCita helps ensure higher conversion rates for your business as it very mobile responsive and looks great on any device it is operated on.
It is now very easy to build a landing page for your company. You will certainly not need a designer or a developer to build it. The setup cost too is less and there are no hidden costs of any sort. The added CRM tools too help in scheduling payments, sharing files, etc.
Effective email campaigns
Even today, email marketing remains one of the most effective means of maintaining communication with clients. Without the need for any design skills, you can now create custom emails for promotion purposes. Using these emails, your clients can now make immediate actions such as making payments, schedule appointments, or even register for an event as well.
You can also create emails even when on the go. Tracking of results is very easy on the basis of click rates and clientele activity. This data can be used up to build a good understanding of your campaign and measure the real level of success it offers.
Robust client management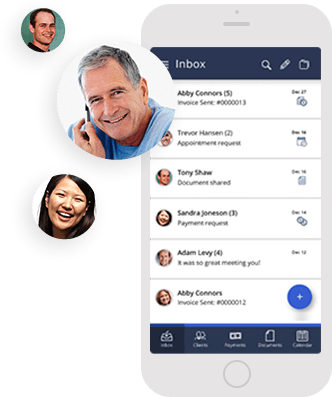 The offered CRM tools are very much tailored for use by service providers and help in growing your business as well. Your business can now be transformed into a self-operating unit without the need for any external assistance. Your business will operate even after business hours have elapsed giving your clients space and convenience to operate at their comfort. Information in regard to your leads, contacts, and clients is stowed away in a very safe and online based hub.
You can now establish a better understanding of your client by keeping track of events such as transactions, conversations, documents exchanged, payments and appointments as well. It is a both a mobile and online based CRM tool which allows you to access relevant information. It further allows you to collaborate better with your team members irrespective of their regional location.
Dynamic lead capturing
Apart from an effective platform, your company website too could be a source of potential leads. Whenever a visitor visits a website, it must be all the easier for them to interact with the company. The relevant information can be furnished once communication has been initiated and finally, build trust with them.
Further addition of action-oriented buttons like "Schedule Now" helps motivate your clients to enjoy your services and encourage more clicks as well.
As a business owner, you will be notified of any possible leads to which you can easily respond immediately.
Pricing
vCita is available in the form of 3 plans. They are discussed in detail in this section.
Essentials Package
You can enjoy this package for a per-user price of USD 24 per month.
Online scheduling costs about USD 15 per month.
You can also enjoy services like appointment booking and event registration.
Online payments too are offered as part of this plan.
You can manage up to 1000 clients using this package.
It allows only single user usage.
Business Plan
The business plan is available at a per month cost of about USD 59 only.
You can now enjoy all the features as part of the essentials plan, plus:
Create impressive email and SMS marketing campaigns.
Using this plan, you may create coupons as well.
Feel free to create Client tags with relative ease.
You can now s eve up to 5000 clients using this package.
Platinum Package
You can also opt for the platinum package by paying USD 99 per month.
You can now enjoy all the features of the Business package, plus:
Assign staff roles and required permissions.
Create custom email and SMS marketing campaigns.
Enjoy your very own Live Site domain.
Using this vCita plan, you can serve an unlimited number of clients.
Technical Details
The various technical details of vCita are as follows:
Devices Supported
It supports usage on the following devices and platforms:
Windows
Android
iPhone/iPad
Mac
Web-based
Language Support
You can now use vCita using the following languages:
English
German
Spanish
French
Russian
Italian
Portuguese
Polish
Pricing Model
You can opt for payments in any of the following payment models:
Customer Types
As a company, vCita caters to businesses such as:
Small Business
Medium Business
Freelancers
Deployment
vCita is a tool which is cloud-hosted making it very convenient to use almost anywhere.
Support Details
vCita users can enjoy the best in class customer care support using any of the following communication channels. They are as follows:
Email
Phone
Live support
Training
Tickets
Conclusion
vCita is certainly one of the very best business management software's out there. It is suited for any type of business and helps take your company to the very next level. It certainly is an investment worth making.