What is Trello?
Trello is one of the most popular project management and collaboration software out there. It uses the concept of boards and cards, where the board corresponds to the project and the cards represent the tasks.
The cards comprise of lists which keeps track of the status of the project. Lists make it easy to track projects and help record stuff in an organized way.
Trello provides various software integration. Its reasonable pricing makes it one of the most attractive project management software in the market.
Trello provides the flexibility for groups to collaborate and get things done from a single unified interface. It allows you to schedule, focus on, discuss and keep track of work in real time, even when working in different physical locations. It keeps users updated about the tasks via email notifications.
Overview of Trello Benefits
Trello has various business collaboration and information management features that take the business to a higher level. Let's have a look at them before diving into the details:
It is easy to get up and running for your team.
One hub for all your teamwork collaboration.
It provides a view that lets the user see all the task details at one go.
Trello is highly customizable and can fit your needs with a few minor tweaks.
It has excellent security measures that ensure that no unauthorized person can access the information.
Trello provides a mobile app which makes it easy to perform tasks on-the-go.
It provides custom report generation feature through which users can view upcoming tasks and their guidelines.
Trello can be connected to many 3rd-party tools such as Google Drive, GitHub, and Salesforce, just to name a few.
Developers can integrate Trello into their own services using the Trello developer API.
Overview of Trello Features
Trello Cards
It uses the concept of boards and cards. The board is basically the project and cards are the tasks in the project. The cards contain all the information about the project in a nutshell.
Users can view all the information related to the task at a glance. Due to this, there is clear visibility of project operations.
It supports drag-and-drop functionality, which is quite familiar and intuitive. The interface also allows in-line editing. The cards can be placed in lists to track the progress of the project which helps in assigning categories and keeping things clean and organized.
Users can add comments in the card and create labels. They can also upload files and other attachments. Alternatively, they integrate Trello with email or other docs. This makes sharing documents and collaboration seamless.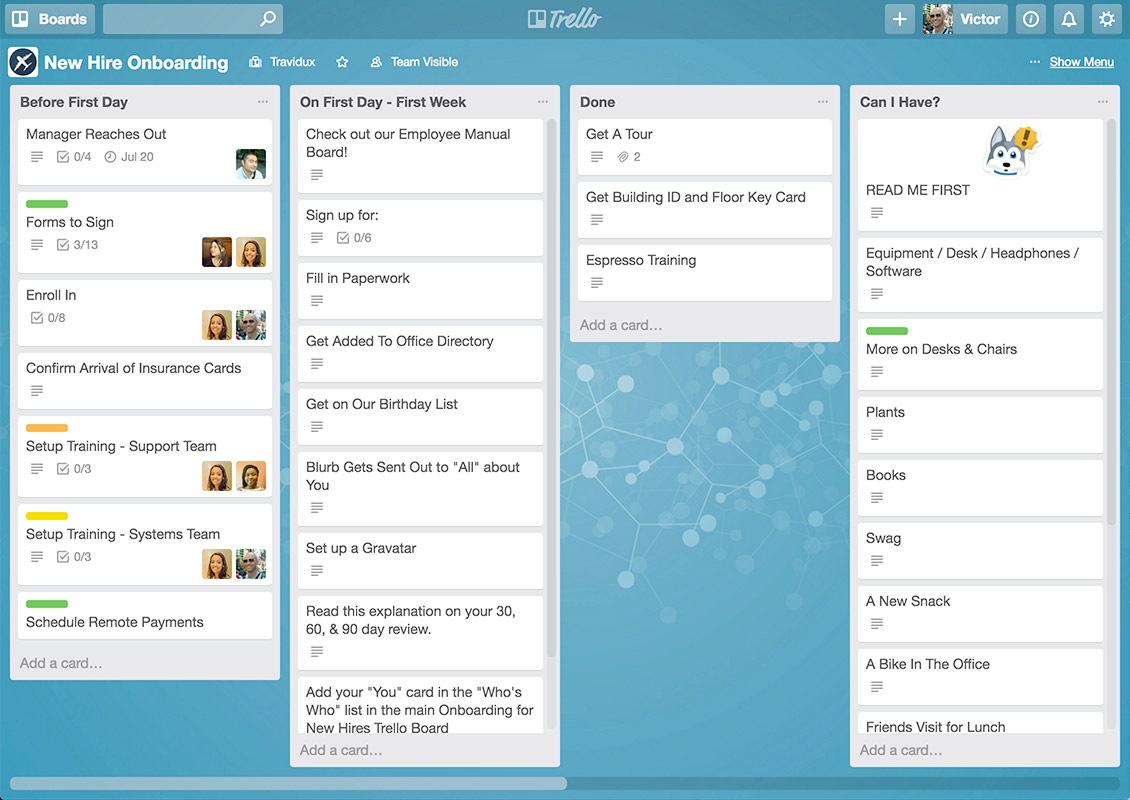 Collaboration Features
Users get notified about the latest developments in the project, and updates from other team members appear on their screen instantaneously. They also receive an email notification if they are assigned a task, or when an update or change is made to the project. This makes team collaboration easy and fun.
Easy User Invite
Users can invite as many people as they want to their board for free. Users simply drag and drop people to the cards and the task is assigned to them. They also notified about this via email.
Since every user sees the same board, they are aware of the project status and can see the whole picture at once.
Task management
Trello makes task management a much less dreadful job. Admins can divide big tasks into small subtasks and assign members to the tasks. He also views the progress of the task. This way he can find the task bottleneck and prioritize important tasks.
 Mention Team Members
Users can mention team members using the @mention feature to draw their attention to specific issues. The recipients get notified about the same and are tagged in the discussion. This ensures that the team members concerning a particular issue are always informed and can get an idea about what is being discussed.
Powerful Integrations
Trello has integrations with many3rd-party softwares. As a result, the team's needs for distributed task management will be covered, even if Trello natively doesn't address your particular problem.
For instance, there are Email integration features that allow you to create, assign and edit documents directly through email accounts. Similarly, users can also use Google Maps Marketplace credentials to access the system. File sharing systems such as Google drive can be used to share files among team members, without leaving the app.
Web and Mobile Apps
Trello provides both web and mobile-based access. Using the web, the application can be accessed from anywhere in the world with no software download required. Both iOS and Android platforms are supported.
Web-based access
Trello can be accessed from anywhere around the world. No software or package download is required to run it. Since Trello is a web-based event management application, it can be accessed by any modern browser.
Tasks prioritization
Users can view all the task and their subtask along with the deadline in a single view. This lets the users find the task bottlenecks and also prioritize important tasks.
Customized Reports
Trello lets the user create customized reports to track task progress. This also gives the user an idea about the data flow and to make sure that data breach is not happening.
Email Integration
Trello provides an email integration feature that lets you assign, create and edit cards directly through emails. Each board has a special email address that is used to create cards. Users also upload attachments using email.
When users get notification via email, they can reply to it without opening the Trello app.
Security
Trello has excellent security features that keep your data safe and secure. You have full control over who sees your board.
User data is sent via SSL/HTTPS connection. Moreover, Trello keeps off-site backups in case data is lost. This way your data can be recovered even if some disaster happens.
Google Docs, Dropbox integration
This helps the user share important notes or any other documents related to the tasks.
Developer API
Trello provides APIs that can be used by the user in their own app or extension.
Cons
No Text formatting using keyboard shortcuts
Trello does not allow the usage of keyboard shortcuts for text formatting. This is a small nuisance for users who are accustomed to using keyboard shortcuts.
No option to export data
It does not give the user the option to export data to other spreadsheet or document.
Limit Notifications
Trello does not give the users the option to limit the notifications they receive. Sometimes the user is interested in receiving only a  few notifications, once a while. However, Trello doesn't have any option to facilitate this.
No option to delete cards
It does not allow users to delete cards. Users can only achieve them.
No visual representation
Trello does not provide a Gantt chart with all activities. Using this chart, it will be easier for people to track their project and the status in one view.
Inability to turn features off
Trello does not allow the manager to lock certain features if he wants to. There are situations in which the manager needs to disable some features so that none of the staffs can use it. However, this is missing in Trello.
Pricing
Trello provides 3 flexible enterprise pricing plans for the users to choose from. It also provides a lifetime free package for small teams and startups. The user can choose the plan best suited for their business. The details of the plan are :
Free
Unlimited boards.
Unlimited lists.
One Power Upper board.
Integration with Dropbox and Google Drive.
Unlimited cards.
Unlimited members.
File attachment up to 10MB.
Business Class – USD 9.99 per user per month paid annually.
Unlimited boards.
Unlimited lists
Integration with Dropbox, GitHub, Hangout, MailChimp, Google Drive and more.
Unlimited cards.
Unlimited members.
File attachment up to 250MB.
Unlimited Power-Ups.
Group team's boards.
Control over who can create public or private boards.
Ability to restrict membership invitations.
Custom board background and sticker.
Enterprise Class – USD 20.83 or less per user per month paid annually.
All robust feature of Business Class.
Single sign onboarding.
Security using 2-factor authentication.
Quick answers using priority email.
File encryption at rest.
Enhanced software monitoring.
Custom security review.
Technical Details
Trello is a web-based service. This means that it can be accessed from anywhere around the world. It does not require any software or package installation on your machine. It can be accessed from mobile, laptops, tablets or any electronic device which supports modern browsers.
Since it is a web-based service, the data is stored on the server. Because of its security algorithm, there is no chance of data been stolen or lost. Thus users can be sure that their data is safe.
Finally, Trello also provides Android and IOS apps. This makes it easier for the users to manage everything in one click.
Supported devices: Windows, Mac, Web-based, Linux, Android, iPhone/iPad.
Language: English.
Pricing Model: Free, Monthly Payment, Annual Subscription, Quote-based.
Customer Types: Small and medium businesses, large enterprises, freelancers.
Integrations: Microsoft Word & Excel, Google Drive, iCal.
Deployment: Cloud-Hosted, Open API.
System requirements: a modern operating system.
Support Details
Trello provides many resources through videos and documents. This enables its user to effectively and easily use it. Alternatively, they can always email their support team for any help and the team provides the best possible solution to their query.
Furthermore, Trello also provides the chat feature in their website and Android IOS apps. This chat feature can be used by the user to clear any query.
Email.
Phone.
Live support.
Training.
Tickets.
Customer online support.
Technical FAQs.
Self-help learning: Product tutorials, Recorded webinars, Technical documents.
Free online training: Webinar schedule, Online training center.