Scoro is an all-purpose business management solution for small and medium businesses. It began operations in 2013 in Estonia. The software has since grown from a niche solution to a robust business process management software.
Currently, Scoro is offered as a Software-as-a-Service solution for businesses interested in automating their processes. It combines the power of project management with personnel management. Its billing management features also work with the time management tool to optimize payouts.
The heart of Scoro is automation. All processes that are repetitive gets automated. This saves time and reduces human error.
Scoro has offices in London and Estonia. They also have recently secured a $1.6 million venture capital funds to expand their operations.
We'll be doing a thorough review of the Scoro services in this article. By the end, you will know enough to decide if you want to use their solution for your business.
What is Scoro?
Scoro is a business management platform that targets young and growing businesses. It seeks to be the only tool that businesses need for all their operations. The app integrates all sectors of business operation in one place and allows you to make informed decisions from just a glance at the dashboard.
The solution offers a lot of collaboration tools to help your team stay in sync. They also remove the need for using many apps to monitor different aspects of business operations. You have all you need in one place.
Its robust integration with other third-party tools makes sure that you don't have to leave the app for any reason. And its intuitive design ensures that even newbies get the hang of the product immediately.
How Does Scoro Work?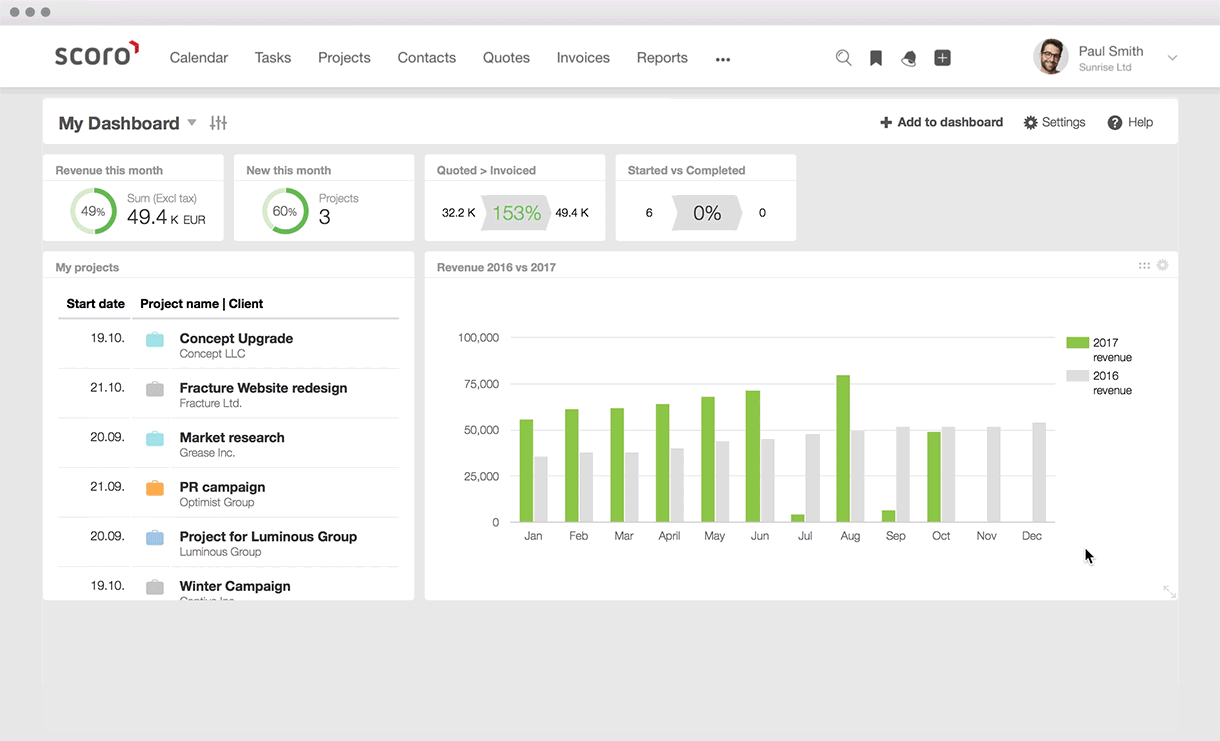 As a cloud-hosted solution, Scoro is available as a SaaS platform only. This means you must register for an account first to use the software.
The registration process is fast and straightforward. You input your email and name, and a registration form shows up in the next screen. The information required includes the usual company details and nothing more. As soon as you fill out this form, you get access to the free 14 day trial period. Your account is ready.
Inside your account, you can begin to invite members of your team. You can also assign roles and tasks according to their specialties. Scoro also lets you design your workflow and processes which will be automated asap.
Benefits of Scoro
1. Intuitive and Beautiful User Experience
Using the Scoro software is a pleasant experience. All the tools and buttons are neatly arranged across the screen. The design is very decluttered. Most users can find their way around the tools without much hassle. For core features and training, you can also use their available training materials to get ahead.
2. Powerful Analytics and Reports Tool
The Scoro Analytics tools record and present all critical sections of your business operations. The charts and tables are straightforward to interpret. And all your business indicators are measured to the last detail. You won't want for another analytics solution after using this tool.
3. Superb Integration With Third-Party Tools
Scoro integrates seamlessly with many notable third-party tools. This strengthens its claim as a single source of truth for business operations. You can extend the features of your account by adding tools such as:
DropBox,
QuickBooks,
Outlook,
MailChimp, etc.
It only takes a few clicks of a button.
4. Support for Multiple Currencies and Languages
The multilingual supports allows you to work with diverse teams all over the world. Scoro translates all your data into different languages to suit the users' region. The payment feature also supports multiple currencies. Now you can hire quality team members no matter their location around the world.
5. Excellent Task and Time Management Tools
Time and task management ultimately determine your projects' success. Scoro incorporates superb time management tools such as alerts and notifications. It also optimizes your task assignment using powerful automation tools.
Cons of Scoro
1. Onboarding Fees is Rather Expensive
For a tool with numerous features, a thorough training material should be made available. Scoro does provide these training materials but at a steep cost of $889. In addition to the access fees, this is quite expensive for a small business looking to get into the market.
Features of Scoro
1. Business dashboard
The business dashboard shows a detailed record of all your operations. The dashboard shows the performance of your employees on their assigned tasks. It also measures many important KPIs for you to investigate.
You can customize the dashboard to present reports on custom indices that you want to study. It also reports the payment status for your clients, partners and team members.
2. Task and Calendar Management
Scoro syncs all the tasks in your account with the calendars of your team members. The calendars serve to block out times of the day for them focus on dedicated tasks in the business.
The task management monitors the progress and performance of your tasks among your team. It allows you to automate task assignment and tracking. It also communicates with the dashboard to provide detailed reports on the performance of these tasks.
2. Project Management
The project management solution provides an overview of your projects. It integrates with the task and time management tools to present a detailed summary of your project progress. You can use the project management to reschedule, shuffle and delete tasks in the project window.
It uses a visually stunning user interface to present the project summary. Other project indices, including estimated completion dates, are shown too.
3. Quote management, Invoices & Expense Management
Scoro eliminates the need for third-party solutions for quote management. The quote management tool combines a pretty user interface with powerful customizability.
This feature allows you to infuse your brand identity to your quotes. It integrates with the multi-currency support tools to present all your estimates in the native currency of your vendor.
The invoices tool works similarly. You can design and deliver functional invoices to your partners and client. All complete with your brand image and identity. The expense management tool helps you to monitor the cash flow into and out of your business at a high level.
4. Customer Management
Scoro allows you to create unique customer pages for opportunity management. The tool lets you tailor your business offering to their tastes. It also enables you to estimate their reaction to your products. And hence; remodel your sales funnel. Overall, it is a powerful opportunity management feature.
5. Work-time Billing
To ensure that you are neither underpaying or overpaying your staff, you need some form of billing tool. In Scoro, this is the Work-Time billing tool. It works by monitoring the time spent by your team on a project for a given period. The tool uses this information to determine how much payment they are due to receive.
All these get done automatically without your interference. At the end of the work period, it outputs a report showing the estimated earnings of each person on your team.
7. Scheduled Invoicing and Late Invoice Reminders
Using Scoro, you can schedule your invoices to be delivered at a future date. This helps to reduce the workload of monitoring the progress of the project before new supplies get ordered. The scheduled invoicing feature works with the calendar to determine the date for dispatch.
If your invoices haven't gotten any replies, you can automate a follow-up. The Late Invoices Reminder feature lets you send a reminder to your customers. This reminder will update them automatically and hopefully; they'll get back to you.
8. Budgets & Forecasts
The budgets and Forecast tool helps you to determine the estimated cost for your project. It is also an excellent tool for pruning unneeded expenses and save money.
The tool works with the project management API to analyze your project's spending pattern. It provides all the tools required to determine how long and how much your project should cost.
9. Resource Planning
Scoro features a resource planning tool. The tool analyzes your staff strength, specialty, and skill for work. It guides you to allocate the effort of these staff optimally to tasks in your projects. It also helps to cut down on unnecessary tasks. Or reschedule tasks of low priority so you can meet your deadlines.
10. File Management & Sharing
Scoro provides an in-house solution for file sharing and management. Its integration with popular cloud storage solutions also helps to extend this feature. Scoro works with Dropbox for file management. It also comes complete with a File Transfer Protocol (FTP) support.
11. Company News Feed
Scoro collaboration tools also include a company news feed. On this platform, employees can interact and comment on company policies gains and strides. It is a great way to follow the progress of the company's growth and bond with other team members.
12. Multi-currency and Multi-language
Scoro supports many global currencies and languages. This support removes the barrier of language and region when adding talented members to your team. The multicurrency feature also integrates well with the payment platform. This ensures that your payments get disbursed at market rates.
13. Mobile Application
Scoro supports the iOS and Android mobile platform. They have dedicated mobile applications for these mobile ecosystems. Using these apps, you can monitor tasks, events, and your projects from your mobile phone. It also syncs with your calendar to alert you as soon as a job is assigned or completed. You can download it from the Google Play Store or Apple App Store.
Pricing and Price Models
Scoro offers its platform's services on a tier-based price model. Your plan of choice is dependent on the scale of operation of your business. All plans, however, feature enough essential tools for running a simple business.
1. Plus
In this plan, Scoro offers you the feature tools for your business. You get access to CRM features, calendar and task management and invoices and payment features. You also get a well-equipped dashboard for tracking and analytics too. It costs $22 per user per month.
2. Premium
In the premium plan, you get the tools and features in the basic plan plus some extra. You get integration with QuickBooks and Xero for your finances. You also get reminders for late payment. Advanced project and task management features are also included in this package. It costs $33 per user per month.
3. Ultimate
This plan features all the tools in the premium plan and a lot more. You get access to an advanced resource planning, budgeting and forecast tools as well as a commissions manager. You also get FTP integration and advanced customization options. It costs $55 per user per month.
Note that the platform also offers a free trial for 14 days. During this period, you have access to all features of Scoro to determine if it is a good fit for you.
They also offer an onboarding package worth $889 for employees who want to use the platform.
Platforms Supported/Technical Details
Scoro is offered as a SAAS solution. This implies that the software is available for use as a cloud solution. In this case, the platform doesn't require you to provide any server infrastructure. The company hosts the solution on their cloud platform.
To access Scoro, you need to have a computer with an active connection to the internet. Scoro platform supports all modern browsers. This extends its support to include all computers that are internet capable.
You can also access Scoro on your mobile device too. This method is not recommended though if you intend to do any serious process design. The small screen of a mobile phone is unsuitable for you to do rigorous work on Scoro. Use a computer whenever you can.
Customer Support
Customer support on Scoro is excellent. The platform doesn't offer a live chat feature but their response times are reasonable. You can contact them via email or simply request a callback from one of their support agents. You should have your queries answered politely and swiftly.
Wrapping Up
Scoro offers their solution in a market dominated by big players who target big businesses. They, however, have chosen to optimize their offerings for small startups and growing companies. If you feel their offering is good enough for you, go ahead and contact them for a chat.