InfoFlo is an integrated CRM solution that works in the way as you wish for. Many of the CRM solutions that are available in the market are of overpriced and also not user-friendly which is not the scenario of what many businesses expect. Because of this, these software solutions incur too many recurring maintenances and costs involved for software updates. Along with these, there will be also initial assessment and advisor costs. But standing away from these scenarios, InfoFlo designers developed this software which spends money only at the time of software installation.
InfoFlo software is available to its users at a low-cost that involves spending of $99 one time price providing free upgrades for lifelong. It is a most authoritative and unified CRM platform that allows you to have complete authorization over the managing of contacts and entire business relationships.
This software also contains the most effective Outlook syce on the market. It is a completely collaborated software solution for administering all contacts, documents, relationships, calendar, relationships, tasks and, sales management solutions. It also includes configurations of Outlook, Google Sync, and Quick Books.
Benefits
InfoFlo is an integrated contact management software that allows for managing, tracking and directly connecting appropriate data with your business relations. What you have to do is just going with a single-click access in order to get back your information.
It also provides you to have a quick glance at your business contacts that allow your customers to view your earlier deals and exchanges.
The software also holds a privilege of one-click access that is you can immediately get coordinated with a particular contact or with an organization or to a multiple of them that work on different collaborated projects. So, all the data is shared in an automatic and streamlined way.
InfoFlo allows you to follow up with your leads and explore more capabilities that help for development. Also, it is an interface that permits you to have a look and review the deals of what your team and you are working on.
The thing that males InfoFlo as a leading business solution is it holds the capability of consolidating all your clients and contact relationships from Outlook or from an Outlook configured CSV document.
InfoFlo also allows you to have both calendar and email management, so incoherent with that all of the meetings and events are stored in a more organized and detailed format. It can also work on management of tasks, notes and to-do lists where you find more reliability for your businesses.
Along with these, InfoFlo also provides you with the feature of the live feed of your Facebook, Twitter and LinkedIn accounts. So with this benefit, you can post the information to these accounts and look at the information directly from InfoFlo.
Also, it is a completely combined with Skype that allows calling to your contacts who are in your Skype account directly from InfoFlo itself.
Having the feature of built-in 512-bit encryption, all your data in this software is totally in a protected layer. You can transfer files to any organization into a virtual one with this kind of protected software.
It can centrally backup and bring back the whole data into InfoFlo database that include all the contacts, users, documents and all other vital information.
Features
As many business enterprises look for a unified platform to solve their needs and requirements, but there is no software platform to meet such kind of condition. It is so impractical to get such a software system that meets your needs. But, InfoFlo is an intelligent and adaptive software that holds unique requirements in dealing with employee talent levels, budget and in other aspects. With the features and benefits that are in InfoFlo, it has positive reviews among the clients, employees, and customers. Let's have a look on what the specific features that it has.
Unified Office solution
Apart from the conventional CRM solutions, InfoFlo is an economical software where you can gain al the features in order to run your business requirements like system integrations and project management. This software comes into a lead position of all its competitors by delivering effective solutions for customer service and support by embedding customer review into research and development. These all will ensure for enhancing your software progress and gives you the capability of managing all your organization requirements and tasks.
A protected software
As your information is the main asset for your organization, so there is no need to compromise on your data's security. InfoFlo operates as same in both the local networks and private cloud environments. So, let's have a try with InfloFlo where it has no further charges and any additional information required.
Focused business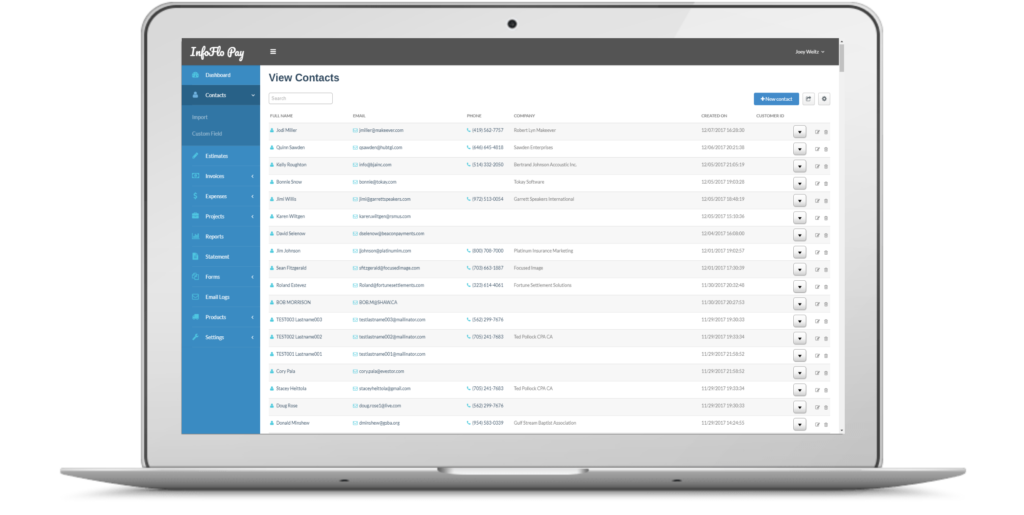 When you are more concentrated on your business relationships, the more it becomes easy in managing your business progress. So with the InfloFlo interface, you can seamlessly authorize your business relations so that you can view all the software information at a quick glance.
CSV import
InfoFlo has the capability of importing the information into your contacts, organizations, projects, tasks, and categories. The import of these files can be directly imported from Outlook or using a CSV, Excel file. Once all the files are imported, they can be directly linked and archived.
Reliable dashboards
InfoFlo holds the feature of the customizable dashboard that includes almost some two dozen widgets. These dashboards help in showing the detailed information regarding your latest sales, task charts and opportunities. Drill down and find out the particular user activity by year, monthly or quarterly.
Task management
You can easily manage and create tasks. You can also attach files and create related emails with pop up notifications and updates. Can share tasks, schedule priority levels and tag them by either status or by type. You can also look at your tasks by organization-wide allocated tasks and filter accordingly. Once the completion of the task is done, users can easily archive them.
Bing Maps
InfoFlo is a completely collaborated platform with the tool of Bing Maps. This feature can easily plot all your customers directly on an interactive map.
Furthermore, InfoFlo has so many features such as
Effective email marketing solutions
Collaborated mailing list authorization
Knowledge-base
Enhanced notes management
Unified platform for both social and online media (LinkedIn, Twitter, Facebook) platforms
Both way outlook synchronization
Embedded project management
adaptive calendar and email editors
Self-created document templates
Customized themes and dashboards
Schedulers for contacts
Integrated call center management
Powered document management
Single click access in managing all the customer information
Seamless integrations for all notes, tasks, and emails
Speed scanning of businesses and documents
Enhanced features for sales automation
Centralized recovery for data backup
Product catalogs
Territories management
Protected data for your data with the predefined 512 encryption
Flexible tracking of meetings and appointments
Easy follow up with the leads and lead opportunities
An Application built in the email editor
Synchronization with Quick Books
More convenient software for market automation features
Easily managed newsletter management
Accessible reporting and analytics tools
Highly detailed search capability
Shared calendars
Quick collaboration with your contacts and with the team
Accessible with any device at any location
Pricing
InfoFlo is available to its users at three plans. There is also an availability of free plan that offers you to check with all the important functionalities. Besides these, you can access more additional upgrades with each plan. InfoFlo Basic plan has a one time cost per user so there will be no additional monthly or annual costs involved.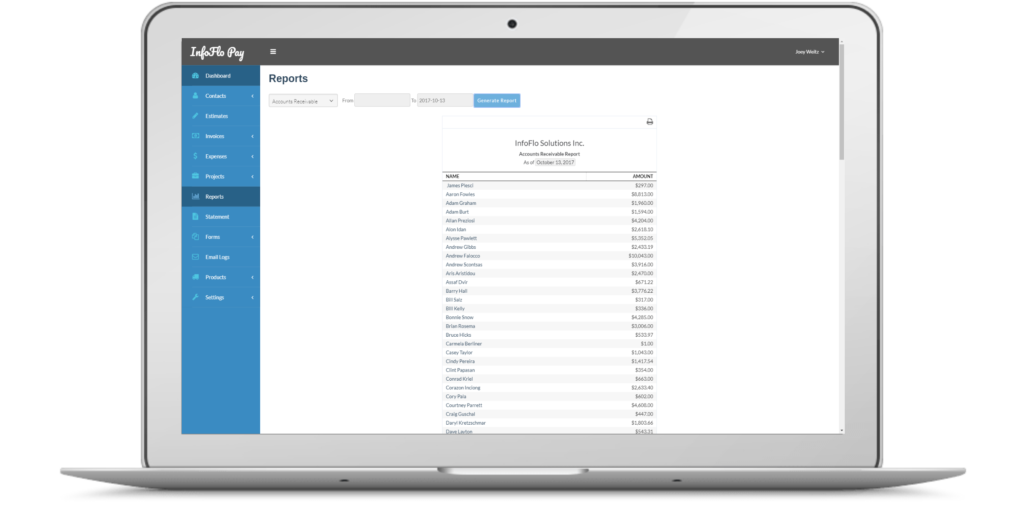 InfoFlo Basic plan
People who subscribed to this plan has to pay $99.00 per each user. The accessible features of this plan are
Contact management
Imported emails
Relationship management
Built-in email editors
Document archiving
Recording for audios
Calendar management
Notes management
Editor for calendars
Availability of text to speech
Support with SQL
Information recovery
SIP softphone
Integration with Skype
Google Maps and Microsoft collaboration
Virtual office
InfoFlo PBX
This plan comes up with all the basic plan features and costs $19.99  per every month. The additional feature it holds is shipping weight of 1.1025lbs
InfoFlo Cloud Hosting
This plan comes up with all the basic plan features and costs $79.99  per every month.
Technical Details
InfoFlo has multiple technical functionalities such as
Supported devices
Supported Language
Pricing options
Free plan
One time payment
Customer types
Freelancers opportunity
Small-scale enterprises
Medium scale organizations
Deployed environment
Support details
InfoFlo is available to its users and customers through media like email, phone, conducting training sessions, availability for live support and also through ticket raising methods. Users can seek the support of InfoFlo by moving to http://www.carmelvision.com/why-infoflo/ and going to contact us link in the footer section. There you can have the support of InfoFlo professionals by connecting then through the mentioned email address.
Conclusion
So, in the end, we came to know that InfoFlo is an affordable CRM solution that works in the way you really wish for. InfoFlo provides you with an collaborated and complete view for all your business relations and contacts from a single interface. An enhanced contact management in InfoFlo allows you to easily track your history of managers and quickly connects the important data with the appropriate contacts.
Have a detailed look at the InfoFlo database and get immediate search results that offer you in getting the relevant and exact information as you wish to.
The reliability of drag and drop functionality will show easily linking your contacts with your organizations. It shows the ease in easily and automatically archiving your project entities. The features of a calendar and email editors will simplify the user managing processes that will result in InfoFlo to be in the leading position.