What is eWay-CRM?
eWay-CRM is an easy-to-use and effective CRM for Microsoft Outlook. It is a plugin that can be used to extend Microsoft Outlook of all CRM features. It offers various features such as mail merges, project management, communications history, sales tracking, auto-reminders, reports, and many more. With this plugin, you can share information, communicate, and collaborate with your team and clients effectively. Microsoft Outlook with eWay-CRM provides you a single platform to manage and run your business.
Benefits
The benefits of using eWay-CRM as a plugin to your Microsoft Outlook application are as follows:
eWay-CRM helps you in managing customer relationships tracking tasks and projects and working as a team.
You can access projects, clients, business opportunities, and customer communications with the help of eWay-CRM.
It provides you with a single workspace to collect, organize and share important information related to your business.
It makes emails, notes, documents, calendar events available for your team immediately.
eWay-CRM provides a simple and easy-to-use user interface.
eWay-CRM offers a wonderful feature known as HUB. In the HUB, you can find all the business communications sorted chronologically. The HUB can be created for projects (Project HUB), teams (team HUB) and also for your organization (company HUB).
It helps you create leads or projects from emails faster.
It helps you send bulk emails and attachments to your customers, collect feedback, track responses, and so on.
eWay-CRM helps you in tracking post-sales activities such as jobs, implementation, and delivery.
It also keeps a close eye on the important deadlines and milestones of a project.
With the mobile application of eWay-CRM, you can work from anywhere at any time.
Features
The eWay-CRM application has several modules such as marketing, sales, customer management, project management, mobile, and report and analysis.
Features of the Marketing module
You can use this module for targeting your potential customers receiving their immediate feedback. eWay CRM integrates the marketing needs of your business with the communication platform. Hence, you do not have to switch from program to program for getting your required information.
Importing existing data easily
First, you can export a template from eWay-CRM. Next, you can fill the template with data such as customer data and business opportunities data. The template can be dragged-and-dropped back to the eWay-CRM application.
Selecting your target group for new marketing campaigns
With the eWay-CRM marketing module, you can choose the target group you require. This module also helps you with targeted marketing campaigns that are based on particular customer information. eWay-CRM marketing module ensures that the right information reaches the right audience.
Preparing marketing messages
The marketing module of eWay-CRM offers an advanced and user-friendly editor that is similar to MS Word. You are also able to import your own HTML templates. To personalize the messages, you can use wildcards. You can also insert attachments such as promo offers or additional information with your product. eWay-CRM is also integrated with Google Analytics.
Evaluating feedback
eWay-CRM helps you with the automatic tracking of the feedback you receive from customers. You can check the emails that were sent to customers and also the emails that were delivered and read. Moreover, you can also get to know who clicked on the hyperlinks present in the emails. You can also view the details of the customers who unsubscribed from your messages along with the timings. To make proper decisions, eWay-CRM lets you view brief statistics. Additionally, you can check the financial rentability of your marketing campaigns.
Features of the Sales module
The sales module of eWay-CRM helps you in managing individual business cases, tracking communication history, and planning follow-ups. The customizable workflow diagrams of this module can be used to ensure that sales reps follow the processes of your business.
Tracking sales deals from different sources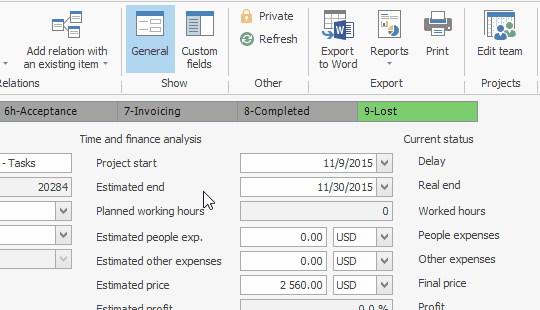 With the sales module, you can track sales deals from different sources. For example, you can track the sales deals developed as a product of marketing campaigns or converted from emails sent to your team. You are also able to track the deals that are results of telemarketing, recommendation, and online advertisements. The sales deals inserted from the web forms through eWay-CRM API automatically can be tracked with help of the sales module.
Utilizing the workflow
The sales module of eWay-CRM helps you in effectively turning business opportunities to projects by utilizing best practices. To save your time and effort, you can produce tasks automatically. This module also ensures that sales reps enter the crucial information. It does so by making some information mandatory.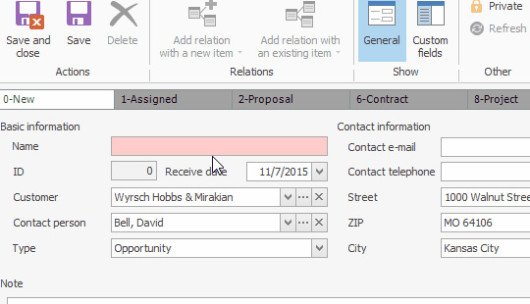 Managing business cases
Using the sales module of eWay-CRM, you can develop a quotation directly from your price list with just a few clicks. You can either export the quotation or create a new quotation using the templates of your business. This module lets you attach the important email and phone calls. The sales module is integrated with the Outlook calendar. You plan your meetings with customers in the Outlook calendar.
Getting accurate and faster overview on business sales
Do you want to know where do the sales reps of your business spend the most time? Or, What is the success rate of the sales reps? The sales module can help you get the answers to these questions. You can also get to know the reasons behind the customers opting for your rival company's product. You can view the statics by reasons for rejection. This module shows the turnover and profit of your business as well as the sustainability of your business' sales rep.
Features of the Customer Management module
This module helps you organize your data and keep them by hand always. eWay-CRM is embedded right inside Outlook. Hence you do not have to leave Outlook at any time to use eWay-CRM.
Segmenting customer database
eWay-CRM offers you a single database that includes your suppliers, customers, partners, and competitors. You can create categories that help you in keeping contacts well organized. The database can be sorted and filtered by geography, potential, type of relationship, size, importance, or any custom field.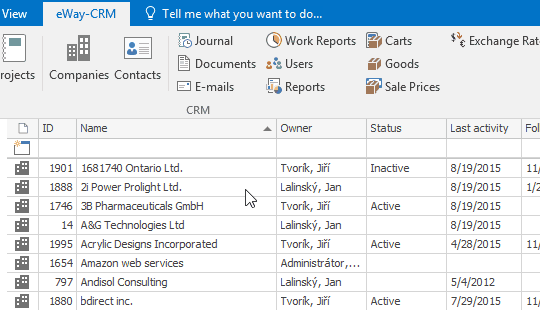 Receiving detailed information
eWay-CRM keeps all your contacts in the Outlook CRM. It also stores business communication history such as Outlook emails, leads, projects, invoices, documents, and phone calls. The state of a customer, custom fields used to track additional information, and the information shared among the employees of your business are also stored by eWay-CRM.
Synchronizing auto reminders with Outlook tasks
eWay-CRM synchronizes auto reminders with Outlook tasks. For example, it will send you an automatic reminder if your payments are overdue. Or, you will receive a reminder if you have not contacted a particular customer for a while. If one of your customers stops ordering from you suddenly, eWay-CRM will send you a notification. You will also receive auto reminders for birthdays or any custom events you created.
Sending bulk emails
With eWay-CRM, you can send professional bulk emails. This feature is already embedded inside the application. Only with a few clicks, you can contact your customers, suppliers, or partners via emails.
Synchronizing contacts with smartphones
eWay-CRM helps you synchronize all your contacts with your smartphone. Thus, you can contact anyone from anywhere at any time.
Tracking of emails and creating reports
eWay-CRM enables automatic tracking of Outlook emails. It also lets you create custom reports.
Features of the Project Management module
The project management module of eWay-CRM helps in tracking and managing the delivery processes of your projects.
Converting deal to a project
The project management module helps you in making the data collected through sales processes available to the delivery department. It enables you to make copies of communications history and important documents. With eWay-CRM, you do not have to send anything manually, everything is automated. It provides the sales department of your business with the recent information on the health of the project after the sale was made.
Providing different project workflows for different types of business
Using eWay-CRM, you can set up different workflows for your different business types. This helps you in promoting consistency within your business. The application generates tasks at appropriate stages automatically and also checks for important milestones.
Creating a project and setting required attributes up
eWay-CRM helps you in selecting employees for your project team and assigning responsibilities. With this application, you are able to scope a project such as you can set up the deadline and calculate the estimated budget. The application will take care of the rest of the tasks after you start your tailor-made workflow.
Managing projects from Microsoft Outlook
With eWay-CRM, you can manage your projects right from Microsoft Outlook application. Using various templates available, you can create documents in just a few clicks. You can plan tasks using either eWay-CRM or Outlook. Your project calendar is linked to the Outlook calendar. You will also be able to view the finance and time comparison between your planned and actual. The application helps you to share all the important information easily with your team members.
Using notifications to keep an eye on your projects
eWay-CRM sends you notifications for any changes made to any of your projects. For example, if one of your team members makes any modifications to a document, you will be notified. You will also get a notification when the project deadline is near or the profit plummets are below certain values. Moreover, the application sends you notification for any custom events you created.
Getting helicopter view of your projects
Using eWay-CRM, you can easily view the goals or targets of your projects, the profitability of projects, invoice plans, human resource planning, and also the financial efficiency of the projects.
Features of the Mobile module
With the mobile module of eWay-CRM, you can access the required information from anywhere at any time.
Keeping contacts at your fingertips
With the mobile module, you can access your address book using your Android smartphone or tablet. You can search through different criteria or can use predefined filters provided by the application. This module helps you check related communication history and follow-ups. You can call, message, or send email to clients from the application.
Staying in touch with your team
When you download the mobile application, you get all business leads and projects in your pocket. If your team members add any notes, documents, or emails to a project, you will be able to find it on your smartphone.
Adding documents and journals
When you are in a meeting with your client, you can add the meeting notes in your smartphone or tablet. You can also attach any important documents from the eWay-CRM application. Additionally, you can add a reminder so that you can work on it when you are in office. The application sends automatic pop-up notifications reminding you to make notes right after finishing a call with a client.
Taking photos
You can capture a photo of a flowchart or a functionality of your project and put it in the eWay-CRM application so that your clients can visualize it.
Working offline
If you do not have access to the Internet, you can work in the offline mode of eWay-CRM. As soon as you go online, the database will be updated automatically.
Features of the report and analysis module
eWay-CRM offers a set of predefined reports. These reports provide you with the critical information related to your business.
Different types of reports
With eWay-CRM, you can generate various reports automatically such as project-oriented view, sales efficiency, finances, employee timesheets, customer-related information as well as custom reports.
Easy to export
The reports can be exported to Microsoft Excel, Word, or PDF. They are always print ready.
Pricing
Would you like to experience the features of eWay-CRM without spending a dime? Well, you can opt for the 'Free' plan. The Free plan offers 200MB cloud storage. This plan lets you customize the application. You can use multiple devices and receive email support.
You can also opt for the eWay-CRM 'Premium' pricing plan. It is a monthly subscription plan. This plan costs $28 per user per month. The key features of the Premium pricing plan are as follows:
Allows sharing of data
Offers 10GB of cloud storage
Allows you to customize the application as per your requirement
Allows the use of multiple devices
Offers mobile application
Offers support via phone
The third pricing plan of eWay-CRM is the 'Lifetime License' plan. When you opt for this plan, you have to pay $399 per user plus 18% annual support fee. The key features of the Lifetime License plan are as follows:
Allows sharing of data
Offers you your own server
Allows you to customize the application as per your requirement
Allows the use of multiple devices
Offers mobile application
Offers support via phone
For more information on the pricing plans of eWay-CRM, please visit the webpage https://www.eway-crm.com/price/.
 Technical Details
eWay-CRM supports systems with Windows, Linux, and Mac operating systems. You can also use the mobile application of eWay-CRM in your smartphone with the Android operating system. The three deployment modes of eWay-CRM are cloud hosted, on-premise, and open API. The languages supported by the application are English, Russian, and German.
Support Details
eWay-CRM offers email and phone support depending on the pricing plan you opt for. To get any kind of information, you can fill in the details in the form present in the page and send your query to the team. You can also contact them at (816) 256-8784. The 'Resources' section of eWay-CRM's official website contains various subsections for your help.
Conclusion
With its simple yet powerful features, eWay-CRM acts as a boost to your Microsoft Outlook. It helps you uncover the full potential of Microsoft Outlook. You can manage your business with software you are already using. Because eWay-CRM is embedded into Outlook, your employees do not have to learn a new software. Thus, it increases productivity and efficiency. The HUB feature offers you everything related to a topic in a single place. Lastly, the attractive pricing plans and support makes eWay-CRM a leader in its category.