What is DeskMoz CRM?
Do you own a customer and/or sales centric website? Do you find it difficult to hire people for your live chat support or in bringing in new customers? Then DeskMoz is the support system that will help you. DeskMoz is a website which provides live chat support system for any enterprise to help them serve the customers, convert online leads into paid subscribers thereby increasing sales revenue.
To use DeskMoz one does not need any more additional hardware or software requirements. It is very easy to use. You just have to sign up on the DeskMoz website and then by customizing the dashboard you can set up with your company information and DeskMoz will take care of it further. After signing up one thing the user has to do is to add the chat tool on their website on all the pages on which the user would want the chat window to appear. The source code for the same is supplied by DeskMoz. As soon as when you sign up for DeskMoz the training for the chat agents is done and within 48hours the chat agents are ready to do the work on your behalf.
Benefits
Chat agents provided by DeskMoz work 24X7 and are trained by DeskMoz themselves based on the FAQs and information provided by you to them while signing up. Hence, you can make use of DeskMoz chat agents according to your requirement and business hours. This feature allows being constantly in touch with your customers and generating leads.
Using DeskMoz helps in being available every time and have a short response time, which in turn helps build trust and confidence in the mind of the customer. They then put trust in the company and hence, any prospective client is assured and becomes a paid member of your services. The conversion rate due to all-time availability increases the customer conversion by three times using DeskMoz.
Outsourcing the work to DeskMoz reduces the time and effort in hiring your own human resource and training them as this work is done by DeskMoz on your behalf. This saved time can then be utilized by you in strengthening your after-sales service then and operations of the company.
DeskMoz also supports your company by training its chat agents to identify the different categories of the customers and leads into confirmed and easily convertible clients, thereby giving you the better analysis of the leads and add to the revenue.
Thus with least of effort time and money is saved and leads are tripled by using DeskMoz.
Features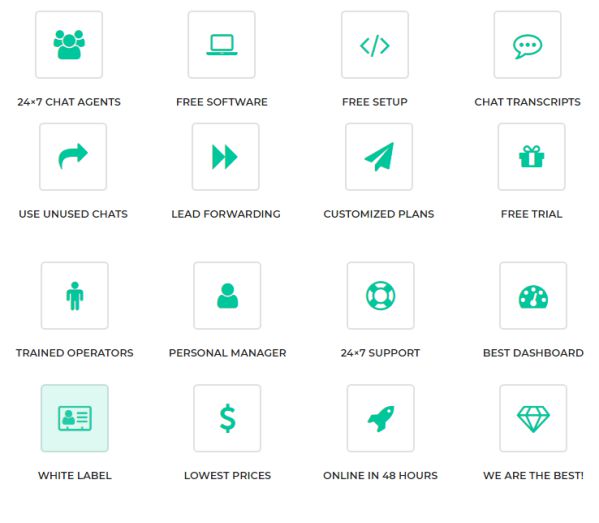 24X7 live agents
DeskMoz provides constant availability of chat agents which results in higher contact with the customers. Instant replies make your website look active which garners the interest of the customers. With a shorter response time, capturing the attention of the customers becomes easy and your conversion ratio increases drastically to up to 3 times more.
Free software
The software for live chat comes free with the services provided by DeskMoz. They can also work with any other live chat software already in use by you. This makes the transition process easy and no extra cost is levied. Thus, picking up the thread from where you left off DeskMoz makes sure that being their client you are at ease and all the work is done by DeskMoz.
Free setup
For any enterprise with less knowledge about how to begin using DeskMoz, DeskMoz themselves help them to get onboard to use the service. The software comes at no price itself; moreover, they also help in setting up the software. No extra hardware is required to start using the live chat service. Thereby, covering the technicality of the software setup.
Chat transcripts
The transcripts of the chats done on your behalf by DeskMoz agents are sent to your email id on a real-time basis. This helps you to evaluate the work done by the agents in real time. By using the transcripts you can always add to the knowledge of the live chat agents by guiding them more precisely to your company features. This helps in guiding the customers more appropriately and converting them with the right knowledge of paid subscribers, adding to the revenue.
Use unused chat
According to the plan that has been chosen by you, if any number of chat has not been used within the subscribed month they can be carried forward to next month. This ensures complete utilization of the fees paid by you. This is especially useful for any seasonal client especially as they subscribe to a particular plan based on the average of the chats used in a year. Hence, complete value of the money you have invested with DeskMoz.
Lead forwarding
The data gathered while chatting with the customers will be forwarded to you for any future reference and to keep a tab of the potential customers. This will be especially useful for you for any high probability client conversion.
Customized Plans
DeskMoz gives the best option to all the clients to choose from any 4 plans pre-designed. But in case of any difficulty or special requirements from the clients, DeskMoz helps them create a customized plan so that the client gets its value for money and ensures not to miss on any client during important selling seasons. Thus DeskMoz not only takes care of your customers for you but also cares about its clients i.e. you.
Free trial
To start using any service from a third party, a company always ensures that they are getting the right service, at the right time and at the right place. Keeping this in mind DeskMoz gives its clients a trial period of 10days. For this, the client only has to sign up and give their details to start using it. The free trail service by DeskMoz comes with no obligation. If you are not satisfied with the service you can withdraw from it and you will not be charged at all. You even enter your card details only once you are sure that you want to go ahead with them. Hence, there is no chance of you being duped at all. The clients' preference is all that DeskMoz believes in while serving you.
Trained operators
DeskMoz ensures that you only get the best chat service for your product and services. The chat agents are trained and experienced in selling and generating leads. This training is done rigorously and only the best agents are employed. A total team of 9 members is immediately prepared within 48 hours of your sign up. This includes 2 main chat agents and a backup agent for every shift. Thus, you get the best product experts for your company, which makes selling and engaging with customers' easier and precise thereby adding revenue with quality agents.
Personal manager
Along with the trained operators, shift operators, Lead- QA team, Lead- compliance team, you get your very own dedicated personal manager. This personal manager acts as your guide and POC who helps you not only with the setup but also with your queries, billing, and renewal. This Dedicated manager is ready for you anytime to help you out anytime to make your work smoother.
24X7 Support
DeskMoz not only has a 24X7 workforce for your customers but has customer support for you at your disposal 24 hours a  day. This comes in handy for any problem you encounter or any query you have any time you can either go to your personal manager or contact support center if your manager isn't available or you are in a hurry. Thus, DeskMoz takes care of you the same way it takes care of your customers. Both are important to them.
Best Dashboard
For easier access to the work done by chat agents and for information, be it your chat used or your personal information with the DeskMoz you can access anytime with the Dashboard on the DeskMoz portal. Thus, you get everything in one place.
White Label
The best feature provided by DeskMoz is the personalization of the chat window. You can add your own company logo, add colors to it based on your choice or theme color, and add your own welcome message and auto-reply. Thus giving it a feel of your own company presence and not showing the outsourcing of the work. Hence, this personal touch feature boosts confidence in the company and shows your active participation on the website leading to more trust in you and boosting your image and paid customers.
Lowest Price
Pre-designed package from the DeskMoz starts at $199/month, which is the lowest that you can find in the industry. The price packages are also designed in tune with different customer requirements based on the traffic received on the website.
Online in 48 hours
As soon as you signup and upload your information, the training of chat agents for your product and services start. They DeskMoz chat agents are already trained and experienced in selling and within 48 hours they are trained to be your product expert and go live with your website chat within 48 hours. Thus by the time you add the DeskMoz chat code in your website you also get trained chat agents.
Pricing
DeskMoz being very ethical and low cost starts its plan from $199/month and gives an option of four pre-designed plans for you.
The features of 24X7chat agent availability, free live chat software, free setup, carry forward unused chats, real-time transcripts, Zapier integration, leads forwarding by email and SMS, white label customization and advanced customization available with all the plans.
Economy Plan:
This plan is the most basic and starts at $199/month with up to 50 chats per month.
Available for a single website with the feature to add 20FAQs
And extra chats available at $6/chat.
Standard Plan:
This plan is the best choice and most opted plan at the rate of $399/month.
This plan can be availed for up to 200 chats/month for a single website.
This plan offers you to upload unlimited FAQs for the chat agents.
Chat agents are custom trained especially for you with full website study.
And each extra chat is billed at $5/chat.
Professional Plan:
This plan is priced at $699/month
The professional plan by DeskMoz provides up to 500chats/month and can be used by multiple users for up to 3 websites.
The feature of unlimited FAQs and custom trained agents with full website study is present in this plan as well
Upon complete usage on 500 chats in a month, per extra chat is charged at $4.
Premium Plan:
The highest pre-made package is the premium plan at the rate of $999/month.
The user gets 1000 chats/month for up to 5 websites.
The feature of unlimited FAQs and custom trained agents with full website study is present in this plan as well
Upon complete utilization of 1000 chats, the rate for any extra chat is at $2/chat.
All the plans have the feature of free trial available.
Technical Details
DeskMoz is a free chat software and hence only a source code is needed, which is provided by them itself and only needs to be copied on every page where the chat window is needed by the client. In case of any difficulty experienced to come onboard, DeskMoz helps you in the setup.
Support Details
DeskMoz not only does help you with having customer support and chat agents but also does ensure that you get the right support with them. For the same reason, they have a dedicated manager at your disposal. This manager is your personal manager assigned to you right at the beginning after signup. This manager helps you with everything. Be it solving your queries, helping you with the free setup provided by DeskMoz, to take care of your billing and renewal. He comes on board with you right when you are on board with DeskMoz. Apart from this DeskMoz also has a 24X7 support center to help you in case of unavailability of your personal manager or if you are in hurry to get any help that may be needed.
Thus, supporting you DeskMoz shows how effective it can help your customers with their query and efficiently generate new leads for you.
Conclusion
DeskMoz is a complete chat support and lead generation software and support system a company looks for. They have added many comfortable features for the comfort of the client in both the directions. Be it any service providers or sellers, DeskMoz helps serve them their customer, by reducing the resource investment to saving time in hiring and training. With many package options available to liberty to design custom package, DeskMoz understands the need of different industry and strives to help them the best in industry.
Ad