Gone are those days when people used to fill their racks with a hard copy of materials. Technological advancements have made it possible for people to access a soft copy of materials. These days individuals like to books, journals, and other writing materials in PDF format. But, even though PDF format is convenient for many, there are certain things that you cannot do in this format. Cisdem PDF Converter OCR for Mac furnishes every one of the arrangements for you. It allows you to do much more than just read the PDF document.
Cisdem PDF Converter provides a high-level OCR technology. This enables users to perform many tasks which they cannot do in a PDF document. The converter recognizes images and text in a document with high accuracy. Cisdem PDF converter is available across two hundred languages. This allows you to convert documents written in multiple languages. The technology provides users the feature to search, edit and select text in documents.
What is Cisdem PDF Converter OCR for MAC?
Cisdem PDF Converter OCR is a straightforward application that enables users with tools that help them convert PDF document into an editable format. It provides users with a comprehensive solution, converter, creator and password remover all bundled into one package.
Built for Mac, it allows users to convert their scanned PDF documents and images into formats which users can edit. Basically, using Cisdem PDF converter you can convert scanned as well as normal PDF documents into editable text files. This allows you to select, search and edit files which are not possible with a normal PDF document. Additionally, it allows you to select a part of the document and export them as text, image or table.
The advanced OCR technology used by the tool enables users to convert scanned documents across 200 languages. Apart from this, it also provides tools to encrypt and decrypt your PDF documents. This was you have full control over which users are able to view and access your documents.
Benefits
Cisdem PDF Converter For Mac provides a user-friendly interface
It enables fast conversion or creation of PDF documents in clicks
It allows users to preview the files while creating or converting PDF documents
You can convert multiple files in minutes
It helps you encrypt and decrypt files safely. It ensures that no data is lost while doing so
It provides a powerful OCR which safely converts your file to other formats
It maintains the quality of your documents while creating or converting
It enables you to merge multiple PDFs into one
The batch conversion tools enable you to save time and convert documents on a priority basis
It provides a free trial version using which you can explore all the features of the application.
Features
Encrypt and Decrypt files
Cisdem PDF converter helps you encrypt and decrypt file safely. It ensures that no data is lost in doing so. It removes the password restrictions on the file and converts it into the format you prefer.
In case the PDF is encrypted by an open password, you need to click on the lock. Cisdem PDF Converter OCR accesses the document and converts it into a format of your choice. You can then view, edit and search the document.
In case the password is encrypted by owner password, users won't be able to perform any operation on the document. Cisdem PDF Converter provides another way to access the documents. It provides tools that get rids of the owner password. You can then convert the file to PDF or other desired format.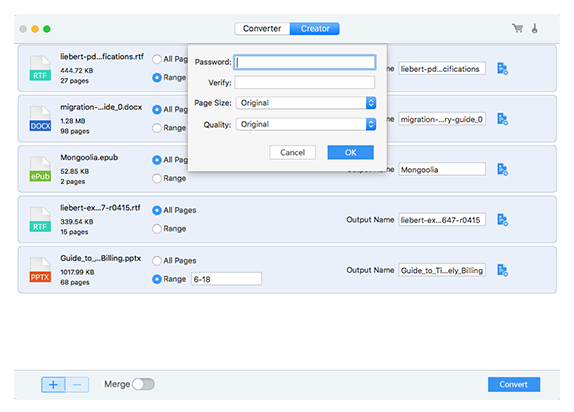 Convert files to PDF
Apart from converting PDF to other formats, it allows you to create amazing PDFs using existing files on your computer. It provides a drag and drops features which allows you to merge several files into one PDF. You can also arrange them in the order you need.
It allows you to even choose the size of the PDF document like A3, A4 or envelope. As for the output quantity, you can choose from low to high to original quality. This allows you to save space. Once you are done creating your file, you can set a password for the file. This way you can be sure that the document is accessible to only the authorized persons.

Powerful OCR
The best part of the Cisdem PDF Converter is the tool called OCR. The app provides a high-level OCR converter which is not available in most of the applications. Utilizing the functionality of OCR is very easy. Simply open the OCR, and convert your PDF to any other format of your choice.
With power optical character recognition system, that app helps you convert PDF document to HTML, MS Office, iWork and other document formats to name a few. The OCR automatically recognizes text, images, and other objects. It converts your PDF to another document format without any loss in data.
Another feature worth noting is that the OCR support multiple languages. It supports over 200 languages which allow you to convert documents in these languages. In fact, it also supports combinations of these languages.
In case you want to work on multiple files, Cisdem PDF Converter provides a hassle-free way of doing it. It provides a batch conversion facility. This enables you to convert PDF files to other formats in batches. This speeds up the conversion process. As a result, you can use the precious time available on doing other priority tasks.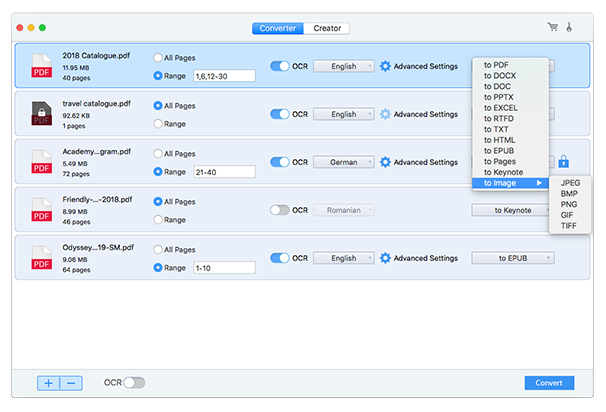 Fast conversion speed
Cisdem PDF Converter For Mac is a very high-speed application. It lets you batch convert multiple files in clicks. The software works in offline mode as well. This enables users to perform their tasks even when they do not have an active internet connection.
Keep the original layout
Another advantage of using Cisdem PDF Converter is that it keeps your original document layout intact. The interface is super friendly and lets you convert multiple PDF files to other documents in minutes. No matter whether you are converting or creating a PDF file, the application makes sure that the original layout of the document is not distorted. This maintains the quality of the document.
Batch conversion
Cisdem PDF converter enables fast conversion of multiple files. It provides a drag and drops functionality which makes it easy to convert multiple files.
The converter lets you select specific pages that you want to convert first. You also get to see a preview of the document and select files that you want to convert. This results in feeling up precious time which can be utilized to perform priority tasks. As a result, there is an increase in productivity.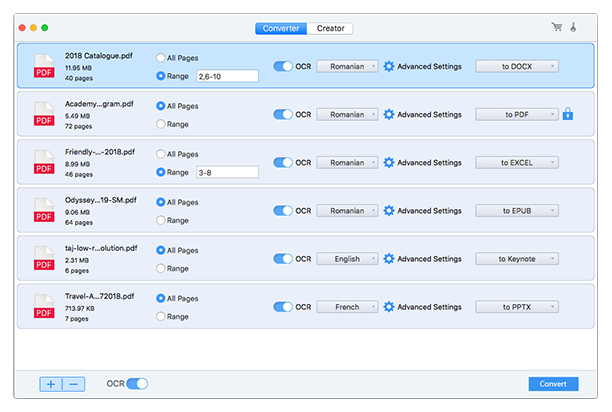 User-friendly Interface
Cisdem PDF Converter For Mac is extremely easy to use application. You do not need any IT knowledge to use the app. No matter if you are an old user or a new one, you can convert multiple PDFs to another file format in minutes. Similarly, you can combine and create new PDF documents.
Free Trail
Cisdem PDF Converter For Mac offers a 30 days free trial to all its users to explore the features of the application. Additionally, it provides a 30 days money back guarantee in case you have purchased the application.
Pricing
Cisdem PDF Converter provides following packages for users to choose from:
Free Trail – Convert only first five pages, 30 days.
PDF Converter OCR For Mac – USD 49.99 for a 1-year license, Only for 1 Mac.
PDF Converter OCR For Mac – USD 59.99 for a lifetime license, Only for 1 Mac.
In case you want to have a custom license, you can contact the support team for the pricing. The support team provides the plans best suited for your needs.
Technical Support
Cisdem PDF Converter is an all in one PDF converter application for Mac. It is designed to be used only on MacOs 10.10+ systems. The application runs on any modern day MacOs device. It does not rely on any other hardware or software to run.
Device Supported – Mac.
Language Supported – English.
Pricing Model – One-time payment, annual subscription.
Customer Types – Small Business, Medium Business, Large Business, Freelancers.
Deployment – On-premise.
System Requirement –

1G Hz or above 64-bit Intel processor.
400 MB Free space.
512 Physical Memory(RAM) or more.
1024*768 or higher resolution display.
Support Details
Cisdem PDF Converter For Mac provides an extensive support team. It provides a FAQs page that helps you get answers to your problems. Similarly, there are manuals which give a detailed explanation of how to use the application. In case you do not find a solution in the manual, you can contact the support team at support@cisdem.com.
If you have any questions about the sales and marketing department, you can write to them at sales@cisdem.com. For any other kind of inquiry or request, you can email them at partner@cisdem.com. Or, you can connect to them via Twitter, Facebook, Google+ and Youtube.
The various support details are :
Emails – In case you have any query related to the application, you can email the support team. Make sure you provide a detailed explanation of the query in the email. This helps the support team understand your problem better. They can they give you the best solution to your query.
Tickets – Or, you can create tickets containing a detailed explanation of your query. The support team tries their best to solve your problem at the earliest.
FAQs – Users can save their time and go through the FAQ manual. This helps them get a solution to the query that has already been answered.
Online Resources – There are several documents and videos available which helps you get an in-depth knowledge about the application.
Conclusion
Cisdem PDF Converter is one of the best tools for converting and creating PDF documents in Mac. It is extremely user-friendly and enables fast conversion of documents. It is a reliable tool and solves most of the problem related to PDF conversion and creation.
The application supports over 200 languages. It also allows conversion of documents written in multiple languages. These features combined with the fact that it provides a free trial for users to explore its features make it the go-to application for solving all PDF related issues.