What is Leadscore.io CRM?
Leadscore.io is one of the most developed and leading customer relationship management (CRM) software that is particularly designed for the sake of small-scale business enterprises. Helping them in the scenarios of governing their contacts, accomplish for effective sales and marketing strategies, create and administer pipelines, enhance sales and then accelerate their business growth.
By automating the marketing and sales workflows, this CRM gains more importance in the market. From the time system setup to the conclusion, it accomplishes every step in a more detailed and perfect manner. This kind of holding responsibility from the early stage to the close of deal gains millions and billions of dollars to the business. Also, holds the capability of satisfying the business users needs and requirements and help to be in more within reach with the target customers that deliver the best solutions at the right time.
Benefits
Making every feature of Leadscore in usability, this software system helps the target audience in enhancing their sales and leverages for business growth. Some of the benefits that these software's offers are:
A leading customer relationship management tool that simplifies the governance of your prospects, manage your contacts, provides a great nourishment and convert your leads into your permanent customers.
Accomplishes for successful sales and marketing solution when all the above scenarios are managed in a single screen where each and every data is accessible in a quick and direct way.
Whenever there happens the scenario of administering all your information in a single dashboard, there comes the development strategy. Development in the Leadscore.io will be in the way of easy get communicated with your contacts, gather information and their social profiles, and analyze media interactions. Also, benefits in scheduling meetings and allows to have a make and affix with notes among others.
Giving you a clear and detailed picture of everything you need, Leadscore outputs the results in a more visualized way and included with high-end pipeline visualizations.
A complete pipelined view of all your information such as tasks, deals, and lists will stand as more support to deliver outputs in a more effective and consistent methodology.
As you are aware of who will be in more engagement with your business, you know who and what kind of strategies, tasks, content, information, and ideas will hold the target audience attention. Leadscore will help you more in getting complete details of your customers and allow you to be in more engagement with them. This will also be accomplished through sending newsletters and emails at the right time to right contacts.
Following this sequence of events such as in sending promotions, newsletters and emails will authorize to gain more assurance among your customers and convert them as your permanent leads.
Leadscore offers you in designing customized email messaging campaigns where those are more effective and also offer you with real-time calculations at the time of emergency situations like link clicks, email opens, and time consumed on mailings and more.
Features
A huge and rich feature set in Leadscore.io will be more supportive and stand by the side of a small-scale business in solving their big ambitions. Along with small-scale businesses either in the sectors of finance, banking, marketing, sales, e-commerce, and healthcare this Leadscore. Io gains more success. So. let's have our discussion on what are the high-end features that this CRM tool offers.
The entire feature-set of Leadscore.io is segmented into three types such as
Sales Features
Marketing Features
CRM Features
Sales Features
Entire visualization of your product
It provides a detailed visualization not only your contacts but also allows you to gather their important data like their social media profiles, websites they are in contact and their birthdays too. Allows you to add tags to the contacts that allow in easy searching and also easily group and recognize them. You can stay back from fraudulent interactions with customers like phone calls, appointments, and product demos.
You will be more in engagement with
Social networks
Files
Contact Snoozing
Customer History
Appointments and Notes
Enhanced Email Management
As the key for every business lies in making an efficient and quick methodology for emailing. Never let your time to be spoiled in going with endless and damp messages in your mail inbox. Make your valuable to be spent on designing templates or important email snippets in order to send corresponding messages in a speedway without getting compromised on the personal requirements that what your clients need.
This email management also will be concentrated on drip campaign, email snippets, email templates, and BCC & forwarding alias.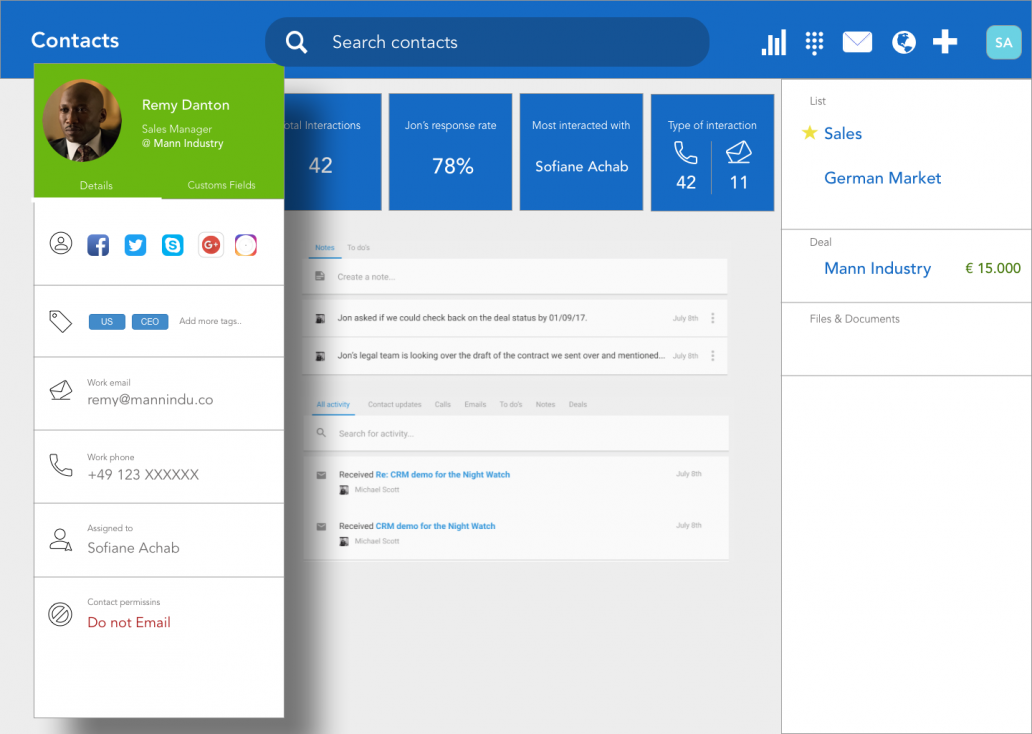 Effective administration on your deals
Using the more visualized drag and drop workflows in our software, you can have enhanced visualizations on your deals. You can create your own pipelined architectures that move in sync with your current processes and be in focus on selling more and not on learning how to exert time in working with a newbie.
One can get deeper insights into
Customization
Easy drag and drop architectures
Customized card views
Can have look on the forthcoming deals that are in pipeline
Lead Capabilities
Lead qualification will be simpler by accompanying with Leadscore than with any other software systems. Leadscore's obvious and clear usage techniques, impressive visualization dashboards are particularly designed to meet the needs that are even in the starting stage of sales operations also. Get a personalized view on your pipelined stages so that you can be more effective in gaining more leads.
This lead qualification scenario leads to having deeper views on custom levels, data points, list management, and pipelined views.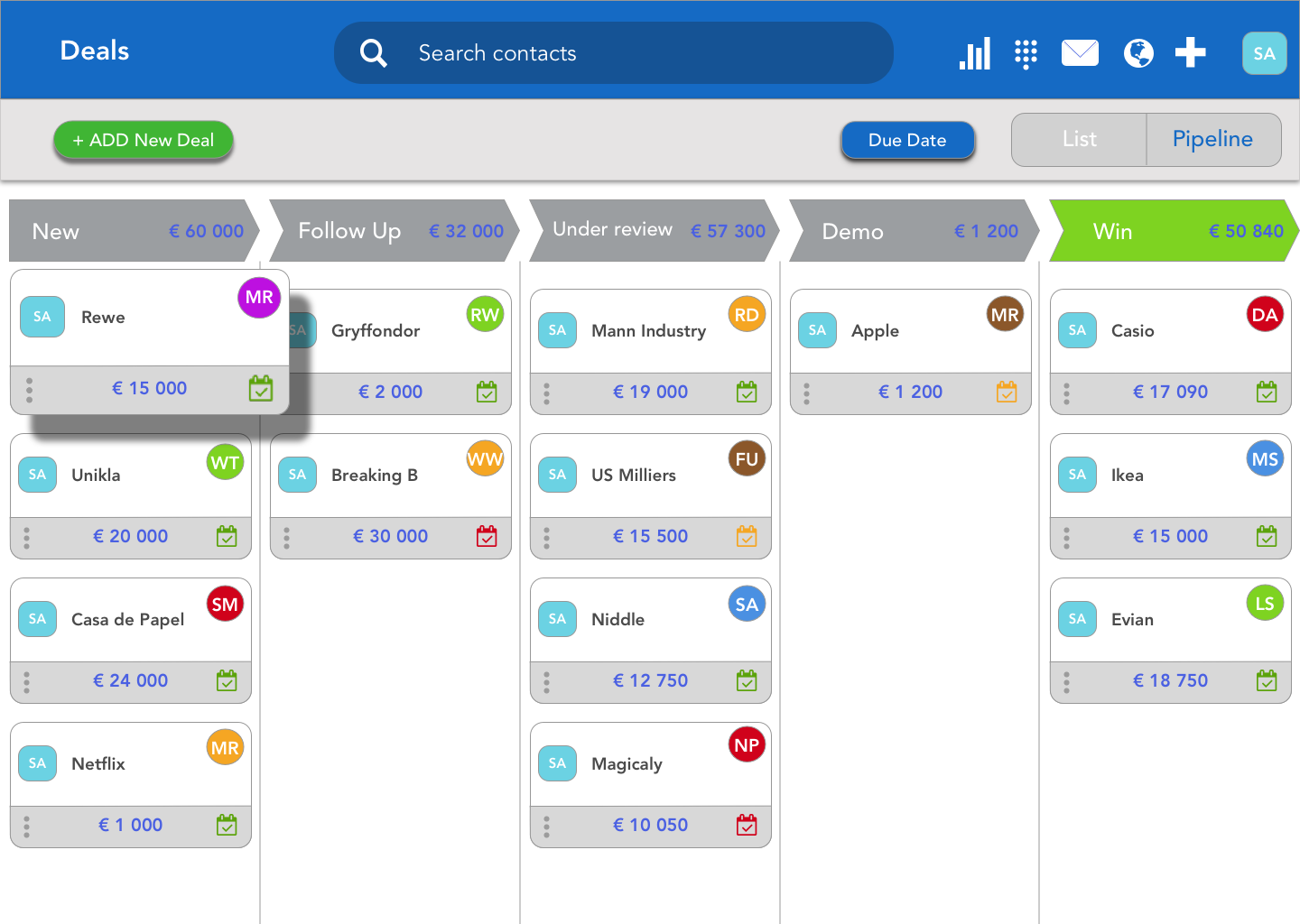 Handling of lead tasks
Leadscore holds a strong hand in assigning your leads to the corresponding audience which is simply called as Lead Assignment. You can create a few rules and limitations that simply automates the whole scenario of lead assignment. You can have deeper look on each and every lead that they hold right lead assigned to the right person.
Smart Sales Automation
With the assistance of leadscore, you can your valuable time spent more on selling than wasting time sitting in front of your computer. Leadscore engages in the best scenario that what you really values on. So, to withstand in this software is developed with the features of authoritative automation in order to accomplish for all the work that you got engaged in.
Authorizes the process of rules, action, triggers and automates in action.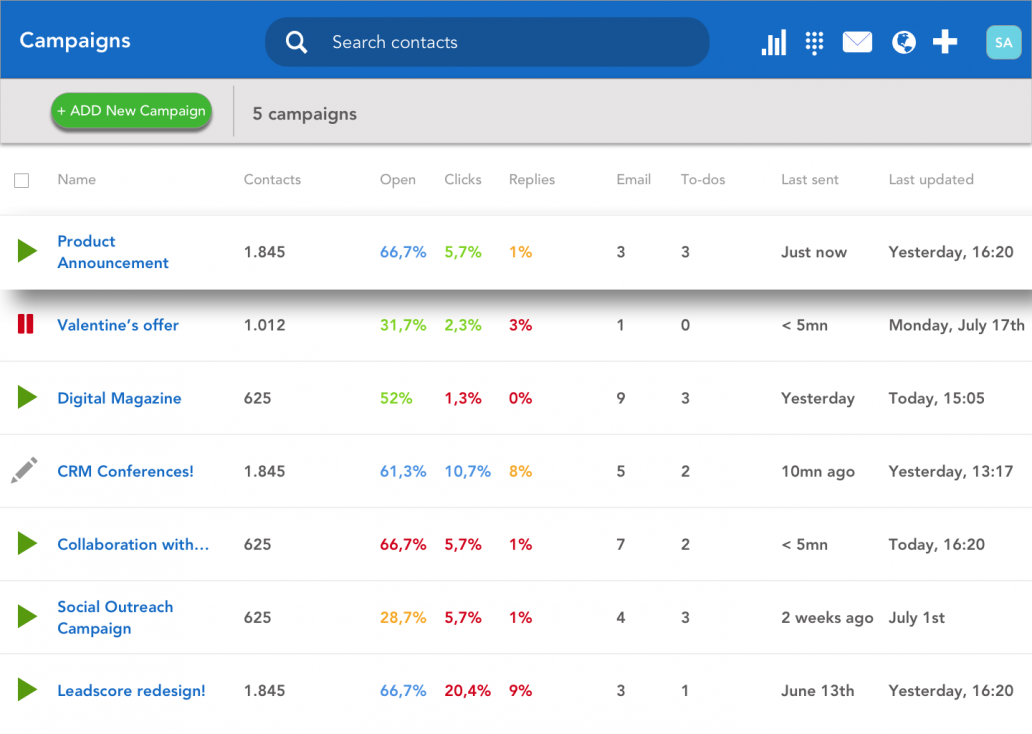 Effective reports management
Have a click on your entire sales using automated reports. You can simply have a look at your development of important parameters such as calls, sales figures, and deals. So, stand back from the sense of perplexing reports where you waste your time and come up with Leadscore that really helps you. When compared, Leadscore has strong capability in easing managing your reports that enable you to generate more productive and data-driven resolutions.
Also, the sales features in Leadscore comes up with another unique feature called as Sales Dialer which allows you to gain increased opportunities through the phone. By simply connecting a VoIP to your account, you can easily attempt phone calls via Leadscore.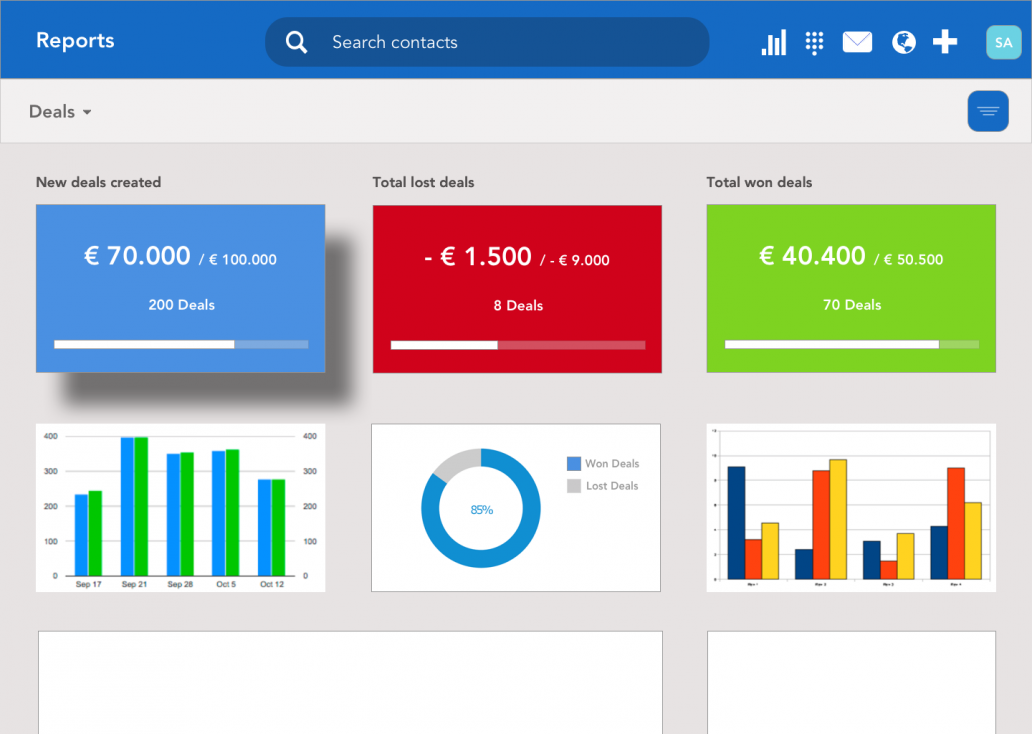 Marketing Features
A complete and comprehensive CRM suite holding various marketing tools that allow for your sales progress.
Website Integrations
By integrating your website with Leadscore it helps to easily progress your website functionality. With the help of multiple tools that are in marketing data in Leadscore, you can easily automate your necessities that work in the process.
Website consolidations help in the scenarios of web tracking, web forms, API and other integrations.
Email automation
Handle all your email strategies with the help of right tools that are in Leadscore. Email campaigning in this software allows meeting all your goals and desires. One can send emails to the list of your contacts and hold-up for the successful results that are in pipeline. Get your email sales to be more progressed by sending large extent of email to respective prospects by having in personal touch with the placeholders.
This email automation helps in the scenarios of
Email tracking
Managing email campaigns
Handling newsletters and
Administering bulk emails
Marketing automation
Allow Leadscore to simply modernize the time-consuming marketing projects. Design workflows that can automatically carry out required actions when a trigger event happens. Also, by engaging with Leadscore you need not waste your time on unnecessary tasks and spend it on the tasks that really accomplish for your marketing sales that directly enhances your business progress.
Feature of Multi-Channels
In the current marketing scenario in the market, you are not really supposed to handle your clients through multiple channels which are a complicated task. As not all your audience is the same platform, Leadscore comes into action to handle your clients by managing a multi-channel campaign that works more on your required touch points.
Either it may be the channel of SMS, messenger. Email or any social media website, Leadscore high-end marketing tools will help to you in having more communication with your customers and also that matches with their particular lifestyles. Other channels that Leadscore has its engagement are calling, emailing, SMS, and social media.
Accurate and detailed analytics
Now, say goodbye to all your assumptions. Calculate the results of your work with the help of built-in analytics and accurate reporting. Have detailed analytics on which campaigns works the best for your organizations and which are not.
Have a look at what website pages and products that your audience is going for the most. So, having these all scenarios in mind, go with the right approach and gain the successful results.
Along with these, Leadscore.io also comes up with CRM features such as
Visual dashboard activities
Custom Fields
Contacts
Task pipelines
Data management
Custom objects
Push notifications and integrations
Support of 5000 tracked emails per every month
So, this rich feature-set in Leadscore.io stands as great support for businesses in gaining success and stand at the top in the market.

Pricing
Leadscore is available to its users with the basic and enterprise pricing plans that provide specific features and allows users to select one as per their requirements. So, now have a look at what are the features that each pricing plan offers:
Bronze plan – It should be paid at the rate of €8 per user per every month. It manages the activities of
Customized bulk emails
Deals and customized pipelines
Meetings, Todo lists, and other activities
Simplified workflow architectures
Prevailing reports and analytics
Silver plan – It should be paid at the rate of €12 per user per every month. It manages the activities of
All the feature set of bronze plan and
Sales dialer availability
Support of 5000 tracked emails per every month
Real-time synchronization
Maintains the infinite number of contacts
Social media contact enhancement
Gold Plan – It should be paid at the rate of €20 per user per every month. It manages the activities of
All the feature set of silver plan and
Maintains the infinite number of contacts
Infinite tracked emails
Multi-step drip campaigns
Technical Details
Leadscore comes up with many technical features into the market such as
Devices Supported
Supporting Languages
Pricing Model
Customer Types
Deployment
Support Details
To be on the correct path to gaining success start with using right plan that fits for your organizations. Leadscore provides you with multiple supporting options such as through email, phone and through live support.
Conclusion
Finally, make use of enhanced features and successful benefits that are in leadscore and come up with productive results that helps in the growth of both sales and marketing. This intensive framework will surely allow you to stand back from all ill-fitting applications and choose the one that provides all the features you require for business development.
The important thing to do would be to analyze the multiple important scenarios that need consideration like key features, financial discussions, talent levels of organization workforce, company size etc. Then, you should do your homework in a more detailed manner. Have a calculation on some LeadScore.io reviews and analyze each of the other systems in your shortlist in detail. Consider and compare with the other CRM software systems and then move ahead with the one that really and perfectly apt for you.